The Professional Wedding Planner Course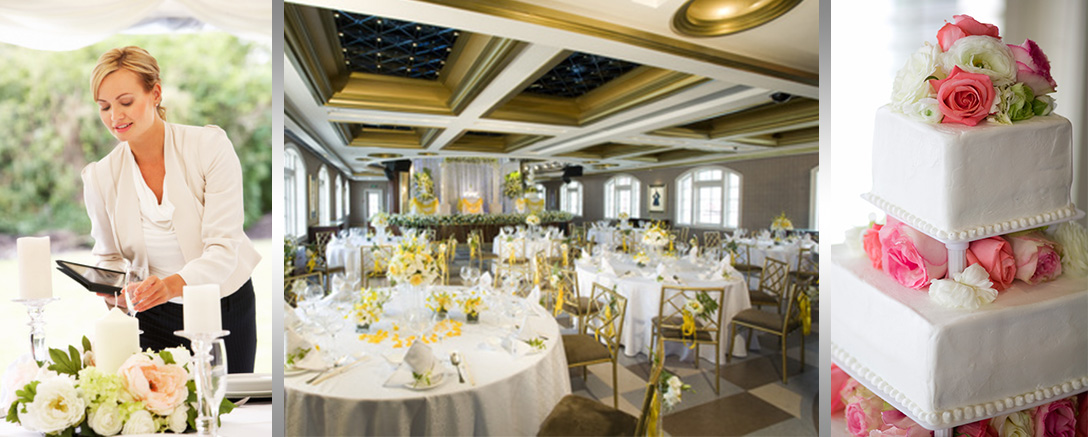 Step into an exciting future with a course that can help you to become a professional wedding planner in next to no time. Or maybe you're dreaming of your own big day and want it to run like clockwork? This course will enable you to plan your own wedding, saving potentially thousands on wedding planner fees, or you can use it to become a professional wedding planner ensuring every happy couple using your service gets to tie the knot in style. Learn all you need to know with this course, from organising the main event and dealing with suppliers, to making sure that the bride's hair is exactly how she wants it and the bouquet isn't wilted!
Build Confidence and Trust
Build your prospective clients' trust in you by becoming a fully qualified wedding planning professional. It can be hard to let go of the responsibilities when you're a budding bride, especially when controlling 'bridezilla' tendencies take over, but with a professional qualification under your belt, and a certificate to prove it, she may just appreciate your helping hand.
Become an expert in every aspect of wedding planning, so that regardless of whether you want to plan your own wedding, or you're embarking on a fun, flexible new career, you can trust yourself to create a wedding worth celebrating.
Step by Step, from Budgeting to 'I Do'
Learn how to set budgets (and how to stick to them), without compromising the elegance and beauty of the wedding itself. Hone your organisational skills and learn how to plan every last detail, from the aisle to the reception venue, and beyond! With a professional qualification in wedding planning, you can guarantee an amazing wedding and the loved-up couple will be able to say 'I do' without a care in the world.
Key Learning Points
The wedding planner course is an excellent resource for anyone wishing to venture into organising unforgettable weddings for couples to enjoy, but it's also a fantastic aid for personal use, to help guarantee your own wedding will never be forgotten.
Get to grips with the rudimentary steps in the wedding planning process, from meetings with suppliers and planning the hen do, to organising the honeymoon and ensuring passports are in date.
Learn the art of negotiation, so that you can ensure the best value for the commodities you choose to book.
Learn how to save money when planning a wedding, as well as how to balance quality and budget. Demonstrate your ability to organise the finances available, and make the most out of them.
If you're looking at making your venture a business, also learn how to market yourself effectively, including how to make a statement with business cards and websites, so that potential clients will choose you over your competition.
Learn about the various wedding dress styles, including couture designs, to ensure complete understanding of a bride's dream dress and how to go about achieving it.
Cover the legal obligations associated with organising a wedding, so that everything can be done properly, while adhering to any regulations that are in place.
Understand the difference between prestigious and budget ideas, master managing expectations and learn how to create the perfect balance between elegance and cost.
Explore wedding traditions; why is a traditional wedding dress white?
Look at how you can charge for your service, and how to draw up a contract so that your services aren't abused.
Get to grips with the importance of budgeting, and how to juggle everything so that the finished product is financially viable and the best it can be.
Advantages of this course
Developed by leading wedding planners who are top professionals in their field. Who better to learn from than the best?
Simple instructions, videos and demonstrations ensure self-study is as productive as possible. Plenty of tips and techniques are available throughout to ease your understanding.
Save thousands – fantastic for clients, but also perfect for you if you're completing the course to help plan your own wedding.
No timetables; learn at your own pace, whenever you can. Juggle study with home life and complete the course when it is convenient to do so.
12 months unlimited access.
One-on-one online support.
Downloadable budget and wedding planner PDF files, great resources to help get you started.
Low start-up costs should you wish to push forward with a professional wedding planning business.
Build an exciting business that's easy to implement and fits around your other commitments.
No prior experience or educational qualifications required; just a will to learn and to make great weddings happen!
Help others, or yourself, to tie the knot in style with this wedding planner course that will give everyone a reason to celebrate.
Overview Of Wedding Planning
Wedding planning theory
Styles of weddings
Types of weddings
Legal obligations for getting married
Bridal couture covering styles of dresses
We look at booking times
Setting wedding dress budgets
Wedding dress accessories
Tips on ordering a wedding dress
Responsibilities
The responsibilities of the wedding
What the brides parents are responsible for
How to work all the responsibilities out
We also look at wedding make up
Advice on booking make up
Trial make up
Picking a professional make up artist
Working out the make up schedule on the wedding day
Wedding Traditions
Traditions of weddings
The symbolism of the white dress, veil, shoes and more
We also look at wedding cakes
Learn how to pick a good wedding cake
When to book a wedding cake
Designs of the wedding cake,t
Tials of cake tasting and different flavours
How much the wedding cake will cost and the difference between a budget cake and a prestigious cake
Wedding Budgets & Receptions & Your Portfolio
Wedding budgets and where to spend your money
Food and beverage budgets
Entertainment budgets
Making a portfolio for business partners
You will also learn about the reception house
When to book the reception
Advice on accommodation for guests of the wedding
Photo areas for the wedding
Reception house package
Download Budget PDF included
Wedding Timing
Timing of the wedding planning from 6-12 months ahead to wedding day
You will learn how to schedule every activity of the wedding
How to make a run sheet for the wedding day
We look at florist as well
Booking a florist
Advice on budgets of a florist
Seasonal flowers for weddings
Tips on how to take care of the flowers on the day
The Wedding Planner
Learn how to plan all the activities of a wedding
How to plan or book Hens nights
Bridal shower, ceremony and reception venues
Weddings musicians
Book the wedding dress
Wedding rings
Passports and honey moon
We also cover wedding music
Wedding music packages
Wedding music budgets
Why to pick a professional over a casual band
Includes a Wedding Planner download PDF
Wedding Tips
Here we look at wedding tips
Your reputation
Staff meals
Wedding contracts
Payments to services
How to charge your services
What to put in a bridal emergency kit
Look at how to pick a wedding photographer
Learn about different styles of photo shoots
When to book a wedding photographer
When the bride and groom will receive their wedding photos
Church Minister
In this module we cover an interview with a church minister
Who can get married in a church?
The rules of being married in a church
Booking a church and a minister
Legal requirements of marriage
Choosing the vowels
Order of service
Ceremony rehearsals and setting up the church
Business & Marketing
How to market yourself
Developing a 60 second sales pitch for your business
Make a memorable business card
Creating strategic alliances
How to evaluate your competition
How to set your goals
Learn how to set up your business and name it
Making a website for your business for brides and grooms to see your services and portfolio
Hair Stylist, Stylist & Wedding Cars
Bridal hair stylist
How to book the hair dresser
Advice on the trial and when to book one
What hair style the bride should have
Hair accessories like flowers and veils
Going to the salon or getting the hair dresser to go to the bride
We also cover wedding styling
How to pick a theme for the wedding
Styling the ceremony to the reception
When to book a wedding stylist and how to communicate the stylist with other services
We also look at wedding cars and when to book
Advice on picking a wedding car company and choosing a wedding car package
Course Code
EC112036
Type
Online Course
Course Access
1 Year
System requirement
Processor
1 gigahertz (GHz)
RAM
1 GB
Operating Systems
Windows 7
Windows 8
iOS
Browsers
Internet Explorer 9 or above
Google Chrome
Safari 6 or above
Mozilla Firefox
Flash Player
Latest version
Compatibility
Windows, Mac, iPhone, iPad
Test your PC's speed and Compatibility for Free
Click here
QUICK ENQUIRY